Three New Final Fantasy Mobile Apps Announced
Now you can play Triple Triad on the go.
11.19.14 - 2:38 AM
Square Enix recently announced a series of Final Fantasy related mobile apps at a press conference in Tokyo.
The first of these, Final Fantasy Legends: The Space-Time Crystal, is a new game for iOS and Android themed around, you guessed it, time travel. In it, a boy from the present day named Tomoro teams up with Emo, a girl from the future. They embark on a quest to prevent the destruction of the future by a god, while exploring different time periods and using special stones to summon monsters.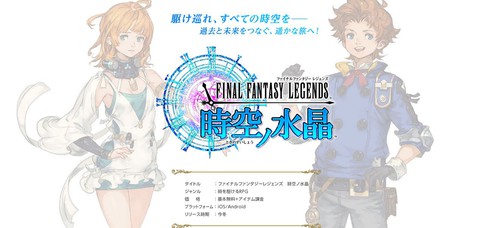 Square is no stranger to time travel &mdashl it was featured prominently in the original Final Fantasy, as well as Final Fantasy VIII, XIII-2, and the perennial classic Chrono Trigger. This latest time-traveling escapade will be available this winter in Japan, and will be free to play with additional items purchasable in-game.
The second app is a game called Final Fantasy: Brave Exvius, developed by Company A-Lim, and is not to be confused with said company's Brave Frontier. Brave Exvius features characters from past Final Fantasy games, as well as new artwork by Yoshitaka Amano, which I am really digging. There is no release information at this time.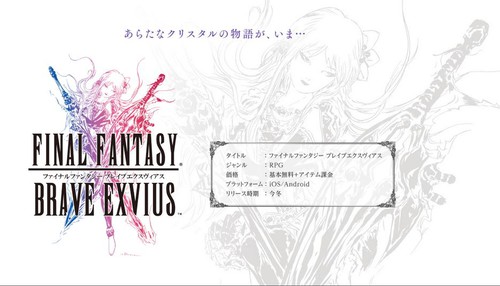 Finally, there's Final Fantasy Portal, which in addition to allowing fans to check the newest information about the series, also includes the Triple Triad mini game from Final Fantasy VIII. Points earned in-game can be exchanged for digital content, and the game itself features new cards based on other Final Fantasy characters. Cards from Triple Triad can be shared with the upcoming addition of the card trading game in Final Fantasy XIV: A Realm Reborn. There's no release date for this app either.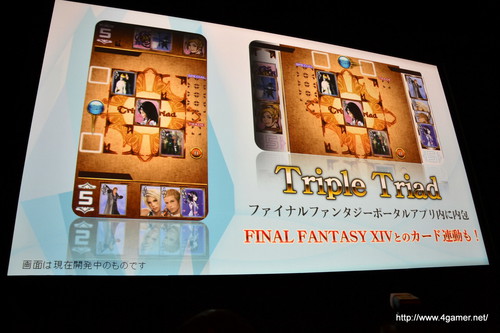 So, logically, we should be seeing a mobile version of Tetra Master, too, right?