Tales of Zestira New Character Spotlight
Finally a chance to see the new additions in action!
11.13.14 - 6:38 PM
Bandai Namco recently shared a ton of Tales of Zestiria footage via their NicoNico livestreaming event. During the stream, producer Hideo Baba showed clips for the assassin Renard, the Seraph Simone, and the knight Sergei Strelka. Several additional clips were shown as well, including a brief video of Sorey exploring the Dungeon of Trail, the customization options for characters, and finally the Normins. Have a look at each video below!
Renard:

First up is our recently announced fox-faced villain, Renard. Renard is an assassin with his own agenda who is so evil that he himself has transformed into a Hyoma.
Simone:

Following Renard is Simone, the cynical Seraph.
Sergei Strelka:

Last but not least is Sergei Strelka, the leader of the Laurence Empire's knights.
After showcasing these character intros, we were treated to a look at dungeon exploration. Here we have a short clip of Sorey in the Dungeon of Trail. It's worth noting that Sorey uses several different elemental based powers to navigate the dungeon, including teleports, super strength (to crush some fairly large pillars), as well as a water shield.
Two final videos round out the collection. The first video gives players an idea of the silly and down-right adorable options they'll have for accessories. The second video focuses on Normins. Normins are smaller Seraphs that will provide buffs and benefits throughout the Tales of Zestiria story.
In additional Tales of Zestiria news, this week's Jump magazine introduced us to two new characters.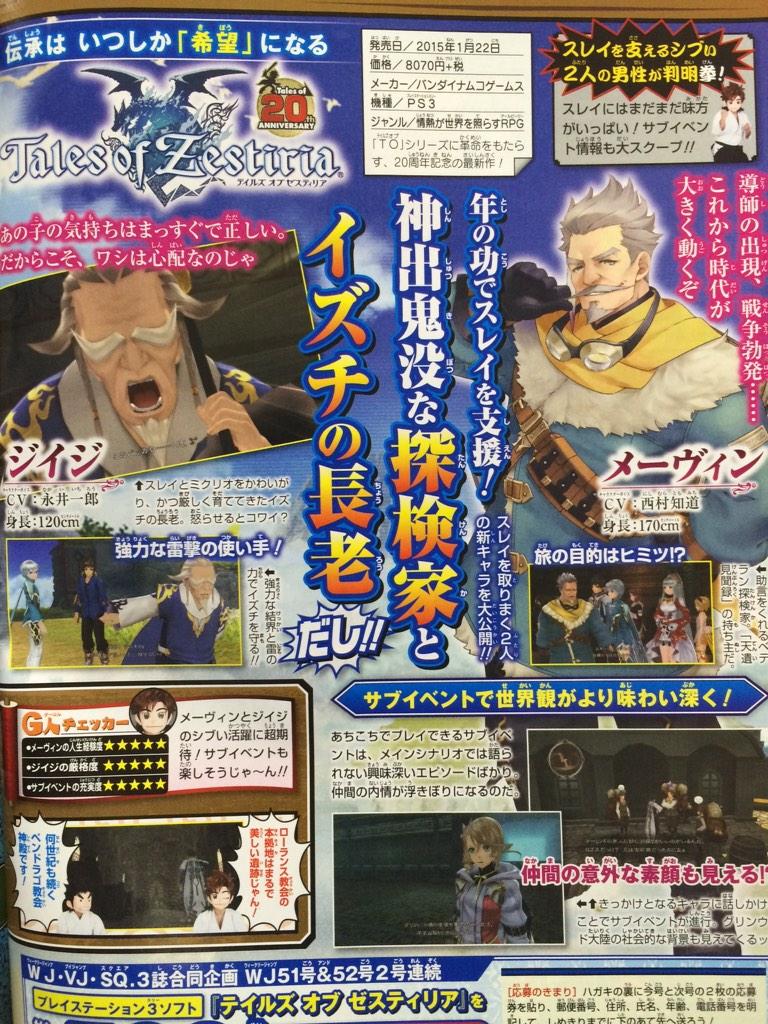 Jiiji, featured on the left and voiced by the late Ichiro Nagai, is a clan elder responsible for raising both Sorey and Mikleo. A father figure of sorts, Jiiji protects Izuchi with thunder magic and a powerful barrier.
Mervyn, featured on the right and voiced by Tomomichi Nishimura, is a seasoned adventurer who is in possession of "The Record of Heavenly Bequethments". While details about Mervyn are scarce so far, we do know that Mervyn will occasionally drop by to give advice to Sorey.
Lastly, the scan also confirms that additional sub-events will be available throughout Tales of Zestiria, further deepening the world and immersion therein.
Tales of Zestiria will release for the PlayStation 3 in Japan on January 22. We'll keep you updated on this exciting title as more news becomes available!