Majora's Mask 3D Finally Announced
See the first trailer and collector's edition.
11.07.14 - 3:10 AM
It's been a long time coming, but Nintendo finally announced a remake of N64 classic The Legend of Zelda: Majora's Mask on 3DS. No real details on the game have been released yet, but during the Nintendo Direct yesterday the first trailer was shared. If you need a reminder on just how creepy this game can be, take a look below:
Nintendo also announced a collector's edition. So far it has only been confirmed for Europe, but there's little doubt North America will also get their own special version too. The European CE includes the game, a steelbook case, double-sided poster, and Majora's Mask pin. You can see it in all its glory in the image below.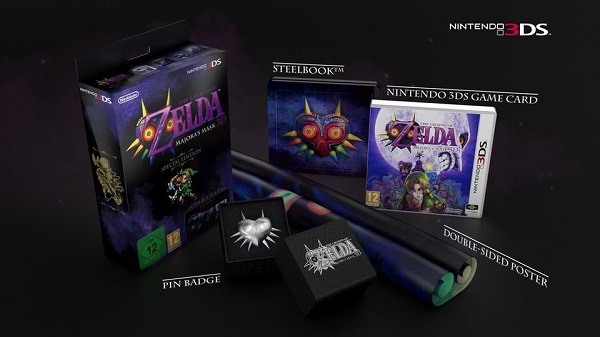 Finally, if you're interested in the changes that have been made from its original release, well... Nintendo haven't said much about that. However, one YouTube user decided to make a comparison video of what's found in the official trailer above compared to the N64 release. You can see it for yourself here.
The Legend of Zelda: Majora's Mask 3D will be released in spring of 2015. Take a look at our new gallery for some screenshots, and I'll leave you with these amazing pieces of art.