Two Additions to Tales Of Zestiria's Roster and New Character Intro Videos
Meet Sergei and Lucas and check out the latest Kamui Mode fusion options!
08.08.14 - 8:45 PM
A recent Famitsu preview has provided multiple details regarding more of the characters and trials that Sorey and team will have to overcome in Tales of Zestiria.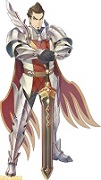 Pictured to the left is Sergei Strelka, the leader of the "Hakuo Knights". These knights form a unit that works directly with the emperor of the Laurence Empire. Prompted by events earlier in the title, we know that Sergei and Sorey will be far from friends upon meeting, and most likely battle each other at some point.
There's also Lucas, a powerful mercenary known throughout the two largest nations, was also introduced. He and his unit of hired help are strong enough to be considered on even terms with an army. When we meet Lucas, he'll be employed by the Highland Kingdom.

Above, we've included links to the scans introducing Sergei and Lucas. Also pictured are several more screen shots of the Kamui Fusion Mode, which, as we know, appears to change depending on which party member you choose to fuse Sorey with. There's a few new screens of side content shown too, featuring multiple versions of Edna's parasol mascot.
Finally, Bandai Namco have released a handful of new videos, starting with introductions for the party characters. You can watch them all below:
Sorey
---
Alisha
---
Mikleo
---
Lailah
---
Plus a few other videos sharing various features of the game. First up is Kamui mode in action:
The next shows the seamless nature of entering a battle on the field:
And last, a bit of chat in a skit:
Tales of Zestiria is in development for the PlayStation 3.