Borderlands Spinoff Coming to Mobile Devices
Let's be bad guys.
03.20.14 - 7:41 AM
Tales from the Borderlands: A Telltale Games Series is an episodic series coming this year to the iOS App Store and Google Play Store. Set in the Borderlands universe directly following Borderlands 2, the episodes will debut in a fashion similar to Telltale Games' episodic The Walking Dead series.
At a recent SXSW panel, Telltale and Gearbox developers chatted at length about the upcoming title and what players can expect from the series as a whole. While providing details about the game's protagonist and general themes, the developers noted that the series will retain the over-the-top action and humor of the Borderlands universe.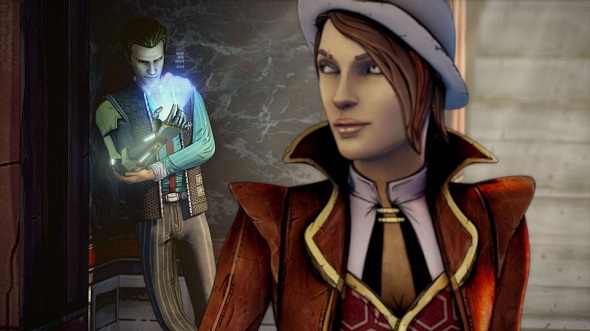 As far as the game itself, so far we know it will center around the two protagonists picture above: Rhys, a Hyperion employee with a cybernetic arm, and Fiona, a con artist. Both of whom are in it for themselves. Driven by their own greed and well-being, players will navigate the memories of the anti-heroes to progress through the game. With that in mind, many of the details of the game will be as these two remember them, whether they happened that way or not. As they each experience different events, players will notice that the events don't always happen the way they've been explained. Players will also often find themselves faced with hard plot impacting decisions, similar to The Walking Dead series. However, while these decisions won't be as heavy as who lives and dies, these choices will help you lie, cheat, and backstab your way to the top.
A myriad of other details were discussed during the SXSW panel, including Rhys using his cybernetics to hack and control robots, as well as Fiona's fast talking coming in handy. However, the developers indicated that the series is meant to enrich and expand upon the Borderlands universe as a whole. Gearbox's writer Anthony Burch likened the series to the collection of short stories, Tales from the Mos Eisley Cantina, a Star Wars collection of events that helped that franchise and universe become more real.
For now, the first part of the series should release sometime in 2014 with a price tag of $4.99 USD. For those looking to listen to the entire panel, Telltale games has graciously released it for the general public.