Gust Announces Next Atelier Game, Final Of The Dusk Trilogy
Check out the first art and trailer.
03.20.14 - 6:32 AM
Gust have recently announced the next entry in the Atelier series: the third and final game of Dusk trilogy. As of yet no title has been announced and the new heroine has not been named. We do have first concept art of her, which you can see below. The name shown in the image is her voice actress, Kotori Koiwai.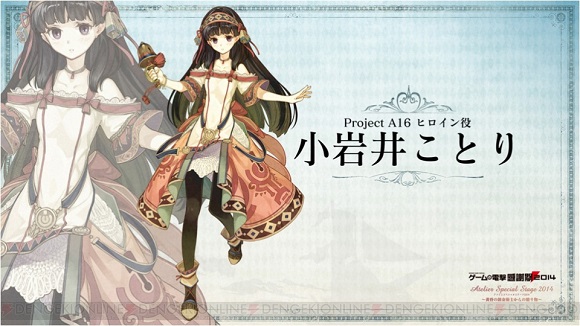 Currently titled 'Project A16,' the new game will be set in the same world as Atelier Ayesha and Atelier Escha & Logy and bring their stories to a close. Though details are currently scarce, more is expected to be announced on March 26th in the next Dengeki magazine. We'll keep you updated, so make sure to check back!
In the mean time you can watch the first trailer released below. Though a teaser, it does feature some brief gameplay!