Lightning Returns' Demo... Returns
And it yields costume unlocks and is now on PSN!
01.22.14 - 10:19 PM
As you may have heard, Lightning Returns: Final Fantasy XIII's demo hit Xbox Live last week, but it didn't stick around for very long. After being pulled fairly quickly, the demo was re-released yesterday, as well as on PSN. If you plan on grabbing the game for PlayStation 3 and haven't played the demo yet, you might want to, at least for the unlockable Utsusemi Garb DLC, which has a Heavenly Fan weapon and Kaminari shield. All you have to do is download the demo.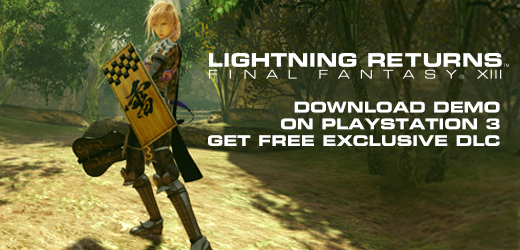 There's also a Siegfried DLC available, acquired by activating the game's Outerworld service and submitting battle scores against Zaltys. Both DLC will be active upon the game's release in February.