Monster Monpiece Coming to North America & Europe
Yes, the screen-rubbing, tactical card-battling RPG is... coming out here.
01.21.14 - 10:57 PM
Haven't heard of Monster Monpiece, you say? While the Compile Heart/Idea Factory PS Vita game is most widely known for its "rubbing" mechanic, seen here: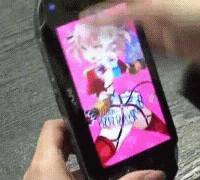 (Credit: Wikipedia)
... there's actually more to it than coercing girls to remove their clothing. The girls themselves — known as Monster Girls — are actually human-styled representations of well-known creatures of myth, such as minotaurs, dragons, gnomes, unicorns, and more, and were created by 50+ artists. In all, the cast is filled with over 100 monster girls that will aid you in battle.
The light-hearted story in Monster Monpiece puts you in control of Academy student May Esperio, who is currently training to become a master of Monster Girls with her friends Karen and Elza. When Elza is stricken with a strange affliction following a meeting with a mysterious stranger. Now "Lost," Elza and her own Monster Girls set off on a mission to steal the Magus Quartzes held in each of the world's major cities. May, of course, must recruit her own Monster Girls to travel the world of Yafaniel and stop Elza from potentially destroying the world.
Battles in Monster Monpiece are strategic card battles, set on a grid, played out in turn-based fashion. Each Monster Girl has its own skills and abilities, and battles feature the "Aura Bonus" which will boost the stats of cards. Also key to victory is mastering the Fusion system, and leveling up your Monster Girls with the "First Crush &heart; Rub" mode, which is exactly what we discussed earlier in this story.
Along with the debut trailer seen below, we also have a brand new Monster Monpiece gallery up now, complete with screen shots, character art, and Japanese packaging shots.
Monster Monpiece also features online multiplayer via the Vita's Ad hoc and Network modes, allowing you to battle others near and far, and Japanese voiceovers with English subtitles. Look for Monster Monpiece this spring, exclusively on the PS Vita PlayStation Network.
Finally, in its press release for the title, Idea Factory has stated that certain artworks are being removed from the North American and European versions of Monster Monpiece due to their "strong sexual nature." Despite the game still earning an ESRB/PEGI rating of Mature/12+, Idea Factory states it was a tough decision, as they understand the demands for the complete versions of their games, without any difference from the Japanese original. However, IF assures players that the gameplay, storyline, and game system are completely intact.
And I know you're going to look them up anyway, so for clarity's sake, the cards with certain evolutions/artwork removed are as follows: Vampire, Kraken, Goblin, Cockatrice, Kobold, Skeleton, Titania, Bahamut, Fia, Brownie, Pegasus, Mandragora, Mau Sibau, Rafflesia, Death Scorpion, Phantom, and Tengu.