Yep, We're Getting Those DQX and FFXI Events in Final Fantasy XIV, Too
Never before have I found a Tarutaru so terrifying.
01.17.14 - 10:22 PM
Well, that didn't take long. We recently discussed Square Enix's schedule for the upcoming Dragon Quest X, Final Fantasy XI, and Final Fantasy XIV: A Realm Reborn crossover events. At the time, we only had event dates for Japan, but now the developer has revealed the events for North America as well!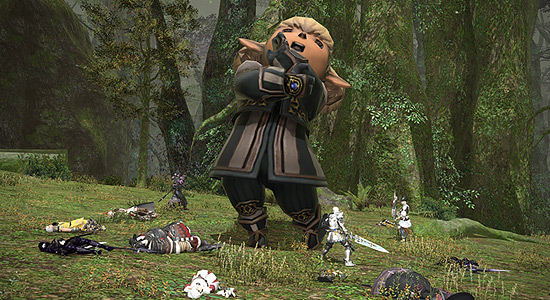 The Final Fantasy XI crossover tasks players with investing a shadowy menace that may or may not resemble a massive Shantotto in FFXIV's Eorzea. The Lodestone has a full rundown on the event, and a successful completion will net you a miniature (and adorable) wind-up Shantotto minion.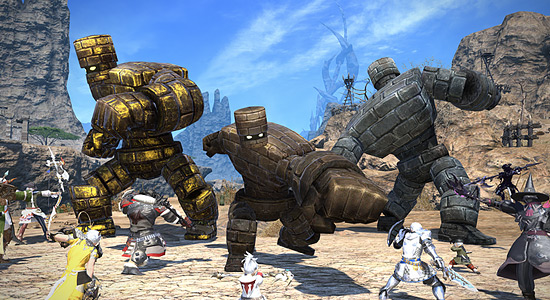 While it's unsurprising we'd see the FFXI event, given Dragon Quest X's lack of an English version, we weren't sure what would happen with that. Luckily, North American players can take part in this event too! This time around, you'll be asked to investigate mysterious new golems, the likes of which have never been seen in Eorzea. Final Fantasy XIV's world has golems, of course, but not like these. Along with the novelty of fighting a myriad of Dragon Quest golems, rewards include a special helmet, and your very own mini golem minion. Again, read more at The Lodestone.
Both events will be available in the same timeframe: They begin at Tuesday, January 21st at 2am (PST), and end on February 3rd at 6:59am (PST). In addition, since we know the Lightning event is making a comeback, there's a chance we may see it very soon after these events close, to coincide with the North American and European releases of Lightning Returns: Final Fantasy XIII.