New Costume and Music DLC Released For Drakengard 3
And its director is keen to make a Drakengard 4.
01.09.14 - 9:50 PM
Now available on the Japanese PSN store is a handful of new content for Drakengard 3. There is a set of rearranged music from Nier, sensibly titled Nier Rearranged BGM Set, which includes versions of "Song of the Ancients," "Emil," and "Ashes of Dreams" from Nier's soundtrack for 200 yen ($2 USD). These tracks can be swapped in through the stage music option.
Also available are a couple of new costumes for the heroine, Zero. Both are sets originally seen on characters in Drakengard 2.
Manah's outfit grants 20% extra health when using healing items.
While Eris' costume lets you guard without using up stamina.
Both outfits cost 300 yen ($3 USD).
And, in perhaps the weirdest DLC of all, is a baby head costume for Mikhail for 100 yen ($1 USD):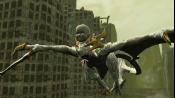 Finally, via Twitter, Drakengard 3 director Yoko Taro expressed his desire to create Drakengard 4. "Thank you for your message," he said in response to a fan asking about the series' future. "I hope to make the game for PS4 but I don't [sic] have enough money for development."
Drakengard 3 is expected for release in the West sometime this year. Perhaps if it sells well enough, Drakengard 4 is a possibility.