5pb Announces A New Visual Novel
Just wait until you hear the title...
01.05.14 - 3:51 AM
5pb, creators of well-known visual novels Chaos;Head and Steins;Gate, has just announced they are developing a new visual novel along with developers La'cryma called Kadenz fermata//Akkord:fortissimo for PC. If that isn't the most impractical title ever, I don't know what is.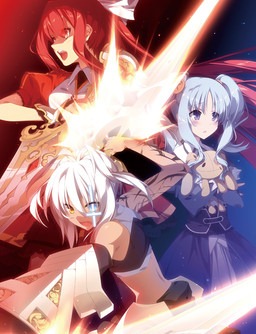 Take a look at the first teaser trailer below:
In the video, you are introduced to three girls: Freya (white hair in the image), Amaterasu (redhead) and Alicia (light blue hair).
The story apparently has something to do with battles between transcendent theosophy and mythological creation. It's not entirely clear what this means, but, knowing 5pb, it will involve some crazy, but clever, ideas.
No release date has been announced yet.