Final Fantasy X / X-2 HD Remaster Collector's Edition Revealed
Also a Square Enix Store exclusive.
12.16.13 - 12:26 PM
Square Enix today announced another North American collector's edition exclusive to its online store, this time for Final Fantasy X / X-2 HD Remaster. The PS3 bundle will come with a 40-page hardcover artbook, five lithographs, and a blu-ray soundtrack disc with some 6 hours of music from the games. The bundle can be ordered for $79.99 here, and you can see what it looks like below: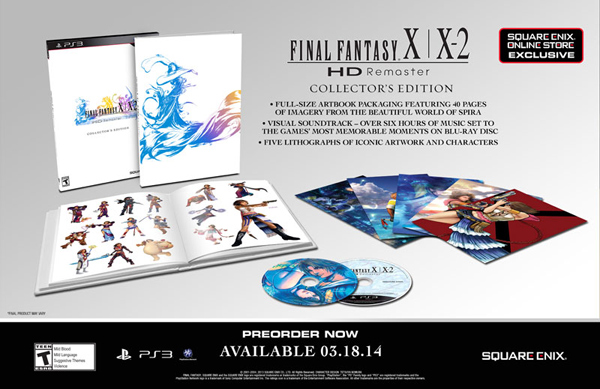 In addition, Square also finally announced that the PlayStation Vita versions of the two games will released in North America on the same date as the PS3 package, on March 18th of next year. The games will be once again bundled together at retail (for $39.99), with Final Fantasy X HD on a game card and X-2 HD as a download code. Finally, there will be cross-save functionality between the PS3 and Vita versions.
You can also check out our newest screens and artwork for Final Fantasy X-2 HD below. You'll notice that the new media focuses on the dresspheres that were previously exclusive to Final Fantasy X-2 International, such as Paine's tonberry costume (which looks slightly hilarious when placed next to her very bladed outfit) and Yuna's flowery festival one.