Zeboyd Games Announces Cosmic Star Heroine
A promising sci-fi retro-styled RPG.
06.27.13 - 12:41 AM
Zeboyd Games, who you likely know because of their titles Breath of Death VII, Cthulu Saves the World, or more recently, Penny Arcade's On the Rain-Slick Precipice of Darkness 3 & 4, has announced their next title, and wow, this is a horrible run-on sentence.
Right, new game! Cosmic Star Heroine will be a 2D sci-fi turn-based RPG. It will be Zeboyd's first game built on Unity, which will not only allow them to create bigger sprites with more animation, but bring the game to a wider variety of platforms than previous titles. Enemy groups will not only be visible on the map screens, but will leave their designated areas to chase the player if they get too close. Instead of traditional go-to-another-screen combat, battles will be fought in-place on the map.
Here's a quick plot summary for Cosmic Star Heroine from the Zeboyd blog:
Alyssa L'Salle is one of the galactic government's top agents and always manages to save the day! But when she accidentally uncovers a dark conspiracy, her own government outs her as a legendary spy and the people's champion! Sure, now she has hordes of adoring fans but every villainous organization she's ever crossed in her career knows who she is and is out for her blood! Can she save the day once more while she faces her greatest challenge... Everyone!?
With a system inspired in part by Suikoden, CSH will allow players to recruit agents and build their own spy headquarters. The developer also plans to bring Hyperduck in for the soundtrack, though that's not yet set in stone. At some point this year, they'll also be running a Kickstarter campaign to help fund development.
Finally, here's the first piece of art for the game's heroine Alyssa: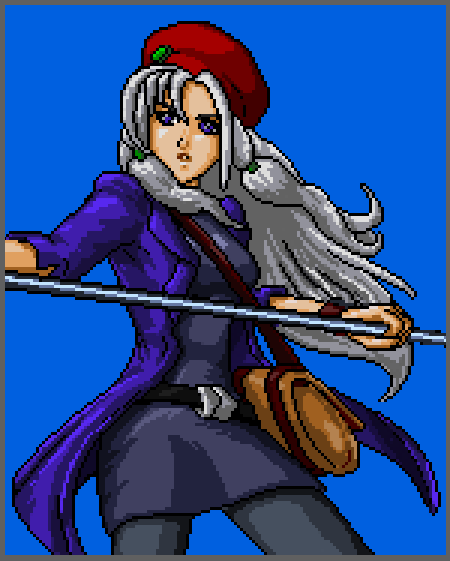 I don't know about you, but the art style and sci-fi setting are giving me a classic 16-bit Phantasy Star vibe, and the on-map battles and larger sprites don't sound entirely unlike Chrono Trigger. All speculation, but the possibilities here are quite enticing.
You can read a bit more in Zeboyd's announcement blog post. We'll share more updates on Cosmic Star Heroine as we learn them!