Final Fantasy XV Key Art, Character Bios
Learn more about Square Enix's newest pretty faces. UPDATE - Now with a trailer!
06.24.13 - 1:42 PM
We haven't learned too much since Square Enix revealed that Final Fantasy Versus XIII was being remade as Final Fantasy XV and a next-gen title back at E3. Today they released key artwork featuring five characters - most notably Noctis - as well as descriptions for each. We're not entirely sure which bio matches up to which face other than Noctis, but here is what we know.
Noctis Lucis Caelum - a prince and the heir to the Lucis throne, he has the gift (curse?) of being able to predict the deaths of others. He doesn't like to act like a noble, though he'll defend those close to him.
Gladiolus Amicita - lord of House Amicita, his job is to protect the royal crown and its heirs, including Noctis of course. Duty aside, he's rather close friends with Noctis as well.
Ignis Scienta - well-educated and calm, Ignis tries to reason with and counsel Noctis who has a tendency to be brash and brusque around others.
Prompto Argentum - described as a 'playboy,' he befriended Noctis in school and so is not actually a part of any royalty, but is always willing to help.
Cor Leonis - is devoted to two things: the king, and the art of war. He does not get on too well with the protagonist, but his duty keeps him in line.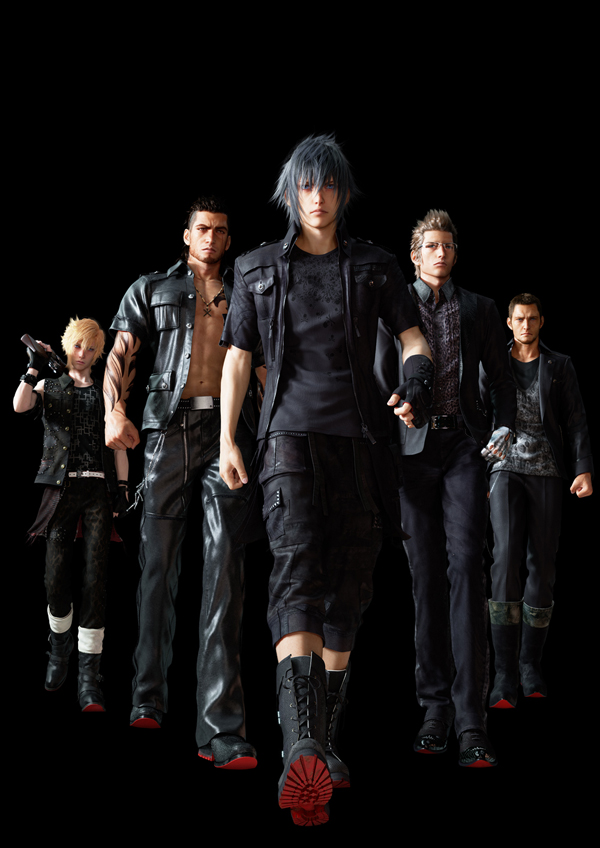 (Me, I'm curious as to which one is the Cloud lookalike.)
The synopsis of the game itself is as follows:

The only crystal left to the world lies in the Kingdom of Lucis. Upon striking a peace with the garrison state of Niflheim, Lucis rejoices in having at last brought the cold war to a close. Their celebrations, however, are premature. Under the guise of amity, Niflheim dispels the anti-armament runewall and launches a full-scale invasion of the kingdom. The peaceful lives Crown Prince Noctis and his entourage once knew are consumed by the flames of war as they struggle to mount a resistance.
Final Fantasy XV's production staff is as follows: Shinji Hashimoto (producer); Tetsuya Nomura (director, character designer); Hajime Tabata (co-director); Takeshi Nozue (lead art director); and Yoko Shimomura (composer). So far, the title has been announced for PlayStation 4 and Xbox One.
UPDATE 6:51 PM PT We've also added a new gameplay trailer that Square shared today from E3. Enjoy!