Tales of Xillia Collector's Edition Announced
We also have firm release dates for North America and Europe.
04.11.13 - 4:11 PM
It's a good day to be a Tales fan. After a long localization period, Namco Bandai is finally getting ready to release Tales of Xillia in the West. To celebrate the occasion, the company has prepared a swanky Collector's Edition of the game. In addition to the game itself, the package will include a 100-page artbook, a "Special Music Selection" CD, and a 21.5 cm Milla Maxwell figure, all presented in a special oversized box. The Collector's Edition will run $99.99 USD in North America and €99.99/£79.99 in Europe. Limited to 10,000 units, it is available for pre-order in the UK through Namco Bandai's online store and will be sold by participating retailers in North America.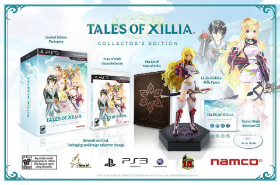 In addition, we have the first English cinematic trailer for the game. Listen to Jude and Milla engage in dramatic discourse below:
Tales of Xillia will be released in North America on August 6th, with a release in Europe following on August 9th.
UPDATE:Here, have a gameplay video too!