Lightning Returns: Final Fantasy XIII's First Trailer
A little earlier than expected, but welcome to the internet.
12.20.12 - 12:57 PM
Last night the first trailer for Lightning Returns: Final Fantasy XIII made a rather unofficial debut - at first via GameTrailers, and then elsewhere before getting taken down (the official release was supposedly going to be December 22nd).
The video, which we've since found below, shows off Lightning's new look for the first time. She also appears in scans of this week's Famitsu, included after the video in case you don't get to it in time.
UPDATE: Well, that didn't take very long. The video has been taken down, but we'll post a new/official version when we can. Until then, click the scan below for a bigger version.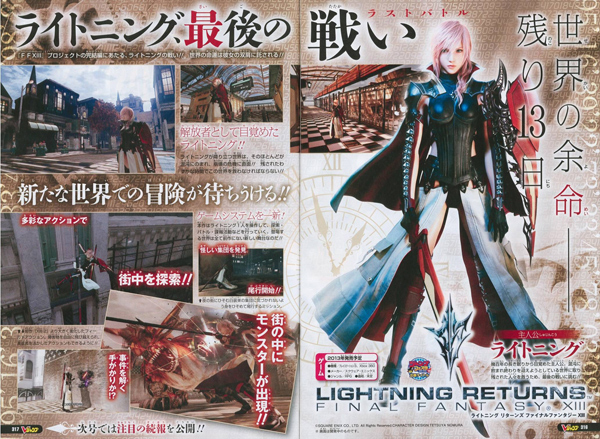 As the trailer shows, and as was explained earlier this year, Lightning Returns has only Lightning as a playable character, and so she has just 13 days to save the world. Lightning's new design is an interesting one, but one question remains: Were the sunglasses really necessary?