BlizzCon 2011: Diablo III Collector's Edition, Cinematic
Plus, get the game completely free - by committing to a year of World of Warcraft.
10.22.11 - 1:18 AM
Diablo III may still not have a release date yet, but thanks to this weekend's BlizzCon event, already it's got a deal with World of Warcraft, a collector's edition... and a cinematic trailer.
Fans of both World of Warcraft and Diablo III will obviously benefit the most from the promotion, as by committing to one year's subscription (known as an annual pass) in WoW, you'll get Diablo III for free. Even though this is 12 months, you can still pay for this monthly, rather than in one lump sum. According to the promotion's page, you'll need to have registered your copy of WoW before October 18th (yes, three days ago), and you'll get to download Diablo III when it's available, and when you have gone through your WoW annual pass, you'll be able to keep Diablo III for free. An extended FAQ on the promotion can be found here.
As is typical of Blizzard, the retail-only collector's edition of the long-long awaited RPG isn't too shabby. Pictured below, it includes: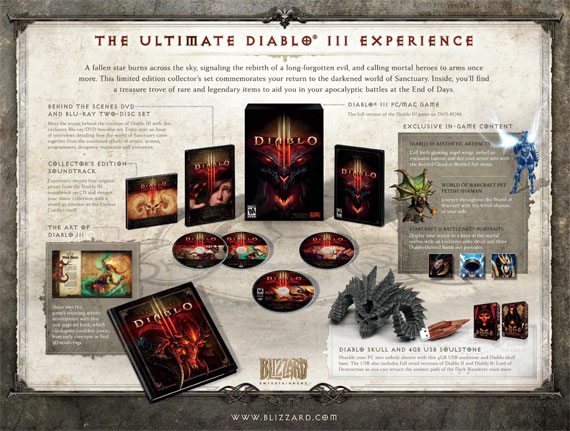 For a closer look at the collector's edition goods, check them out here. This package has not yet been priced.
Finally, below is the game's Black Soulstone cinematic, also revealed today at BlizzCon:
Diablo III (PC/Mac) does not yet have a release date. (Surprising, we know.)