Final Fantasy XIV Version 2.0 Announced
Huge changes will be sweeping across Eorzea.
10.14.11 - 7:51 PM
Today, Square Enix unveiled a very ambitious plan to rebuild Final Fantasy XIV from the ground up, with the goal of making it a hallmark MMORPG worthy of the Final Fantasy legacy. The developers will be rehauling the graphical engine and user interface, re-designing all of the game's maps, expanding community features to ease communication between players, and implementing an all-new server system. Here's a concept screenshot of Version 2.0: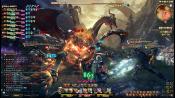 The above changes are extremely large-scale, and the developers need time to implement them. A roadmap on the game's official website shows that Version 2.0 will not launch until sometime between October-December 2012. The Playstation 3 version of the game will also be released in early 2013. In the meantime, Final Fantasy XIV will continue to receive regular content updates, including the addition of the long-awaited job system in patch 1.21. To tie these changes into the lore of Eorzea, the storyline will focus on the disasters accompanying the dawn of the Seventh Umbral Era. A unique tale will play out in the upcoming months that can only be experienced by current players. When Version 2.0 launches, players will retain their character data, but will have the opportunity to alter their race (with new options like male Miqo'te), gender, and appearance.
It was also announced that the free trial period of Final Fantasy XIV is coming to a close. Starting in late November/early December of this year, a monthly fee will be charged to players. The developers acknowledge that this decision will be unpopular, and ask for the patience and support of fans while they work to make the game a new, high-quality experience.
For a comprehensive list of the planned content in Final Fantasy XIV Version 2.0, check out the official word over at the Lodestone. We will continue to update whenever new information becomes available.
For more concept art for Version 2.0, check out the art section of our gallery below.