Nippon Ichi's Newest RPG: The Witch And The Hundred Soldiers
Magic, swords, exploration, item creation... and GIGAcals.
09.28.11 - 2:33 AM
In the last couple of days, Nippon Ichi unveiled details on their newest RPG. Majo to Hyakkihei (roughly translated to The Witch and the Hundred Soldiers) is in development for the PS3 and will be "a dark fantasy RPG with a seamless open world, a high degree of freedom, and dungeon RPG elements." Nippon Ichi actually semi-announced it back in August. So far though, all we have in terms of media is one teaser image showcasing the witch, named Metallica, mentioned in the game's title.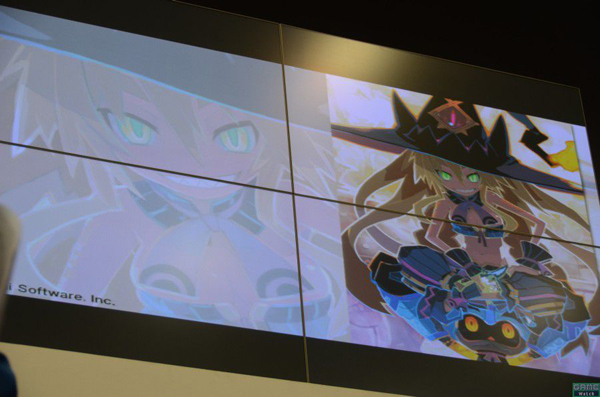 The story follows an attempt by the marsh witch, Metallica, to defeat the ugly forest witch and fill the world with marshland. At some stage during their ongoing war, Metallica discovers the legendary Hiyakkihei and uses it for battle. The Hyakkihei soldier does not look strong, but he wields a large sword that once held great magical power. Along with losing its magical powers, it's also reportedly lost its morality. It doesn't hesitate to attack brutally in battle and it doesn't want to accept Metallica as its master. It's unclear at this stage whether the player will control the witch or the soldiers, but it's likely aspects of both characters will come into play. The campaign will take around 30 hours to beat.
The Witch and the Hundred Soldiers is being developed by Nippon Ichi's Prinny team. They've clarified that it will be an action RPG played from an overhead perspective. The development team confirmed the graphics will be 3D and that there will be a lot of blood, though they were quick to point out it won't be over-the-top. The monsters are all being designed in-house by the development team too.
Reportedly the game will be set in a large, open world where you'll be free to come and go as you choose and you'll take on enemies directly as you come across them. However, it's also been mentioned there will be specific stages in the game. Once you clear a stage you'll be able to go back and find other paths. It's unclear at this point exactly how these two aspects will work together, but the world is seamless - there won't be any in-game loading between areas. Item synthesis and creation will be included and an important part of the gameplay too.
Additionally, you can ally with specific factions and be good or evil in your actions. Throughout the world there are various tribes that you can befriend or attack. Being friends will most likely provide certain benefits, but they'll attack you on sight if you're enemies.
In a feature with Dengeki, five other specific gameplay mechanics were detailed:
GIGAcal
Metallica relies on using her magic power to summon the Hyakkihei. As the soldier is summoned her magic will deplete and can only be replenished by eating GIGAcal (the "cal" being a possible joke about calories).
The Field
Metallica's house is her headquarters, but once you leave it you'll be in the open world full of enemies. Some areas will be shrouded in darkness until a certain amount of GIGAcals are used to uncover it.
Additional Hyakkihei Soldiers
At certain times you can briefly summon some of the other 99 Hyakkihei soldiers. Tochika, one of the soldiers, has a special ability where he releases slime-like creatures around him.
Side-quests
Plenty of side-quests will be offered by NPCs. These can be accepted or refused. In fact, you can even kill the NPCs.
Boss Battles and Special Attacks
There will be a wide variety of large bosses to defeat. Many will require special attacks to defeat that can be activated by using specific Hyakkihei soldiers.
Majo to Hyakkihei is due for release in Japan in the spring of 2012, and it will have both standard and limited editions. The limited version will include an art book, a soundtrack, and a Metallica Nendoroid Puchi figure with removable hat. Prices are yet to be announced.