Kingdoms of Amalur: Reckoning Pre-Order Bonuses Announced
Special armour, weapons and treasure hunter packs can be all yours!
09.15.11 - 12:47 PM
With 38 Studios' first title, Kingdoms of Amalur: Reckoning set for a February release, they and publisher EA this morning announced some in-game bonuses for those who pre-order. And there's quite a few of them. You'll get three bundles of items:
The 'Destinies Choice' pack includes a 'Twist of Fate' card that you can use at the beginning of your game, a Compass of Fate and three armour sets - one for each class.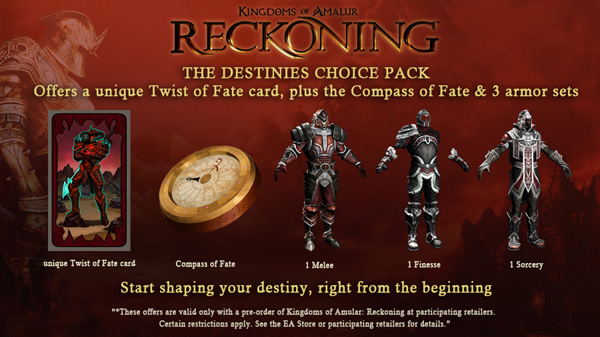 The 'Fate-Touched Weapons' pack consists of, as it sounds, a collection of various rare weapons. With a longbow, hammer, staff, faeblades, daggers, scepter, chakrams, longsword and greatsword all included, there's lots to choose from.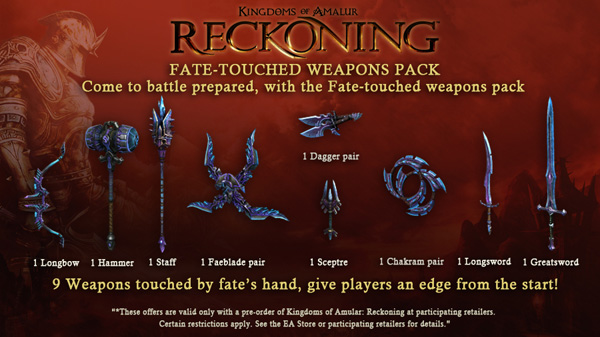 Lastly, the 'Ultimate Treasure Hunter' pack is for anyone who really likes to explore the world.. for loot. This pack contains a Dowsing Rod which will help you find reagents for use in alchemy.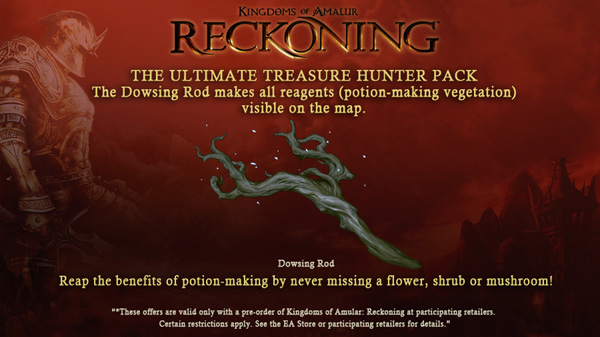 All the in-game bonuses will be offered through the EA Store and at participating retailers. Kingdoms of Amalur: Reckoning (PC, PS3, Xbox 360) releases in North America on February 7th, 2012 and in Europe on February 10th. Check back with RPGFan for impressions of the game, coming soon!