Looks Like North America Gets Tales Of The Abyss 3DS After All
As outed by Nintendo Power.
04.27.11 - 10:07 PM
The May issue of Nintendo Power has a bit of a surprise for Tales fans - but a nice one. It looks like Namco Bandai is granting wishes for another Tales localization behind Tales of Graces F - the upcoming Nintendo 3DS remake of Tales of the Abyss. Here's the proof, and what Nintendo Power (briefly) had to say about it: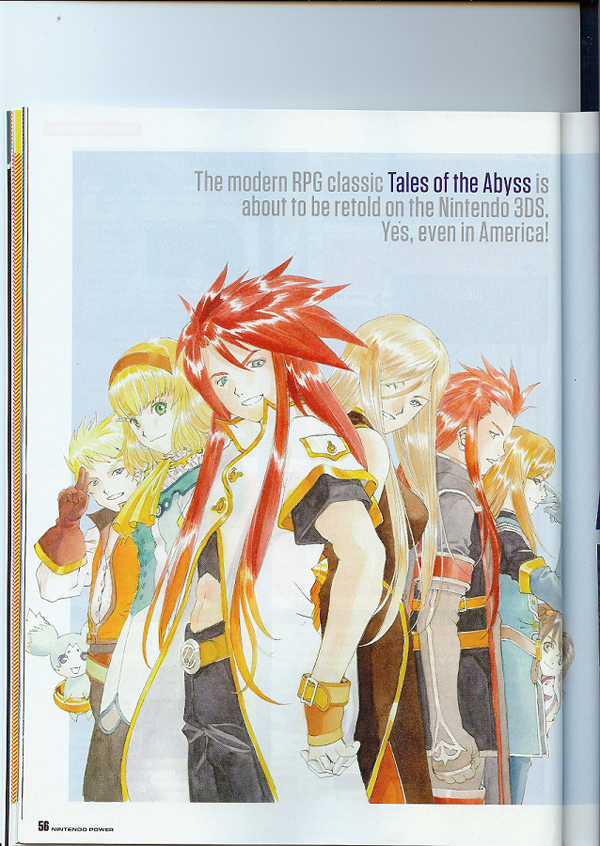 There's also an interview in that same issue with Tales producer Makoto Yoshizumi on Tales of the Abyss 3DS and its localization. One interesting tidbit is that they had to rebuild the 3D models specifically for this version so that they would render properly. He wouldn't, however, comment on Tales of Graces F or its potential platforms, only promising that there would be new info soon. For the rest of the interview, look for the May issue of NP.
Neither Tales of the Abyss 3DS nor Tales of Graces F have a North American release date, but RPGFan will keep you updated as soon as there is more information!