The Last Story Presentation Planned For December 27th
So far, it's got a trailer and a ton of tweets.
12.26.10 - 2:35 AM
If you've been reading Mistwalker Studio's Twitter (@mistwalker), you will have already seen The Last Story's director Hironobu Sakaguchi tweet about downloading and playing builds of the Wii title over the past month or so. If you haven't, he mostly tweets in English (although I see lots of replies in French too) so if you're interested in the game, the Twitter is definitely worth following.
Lately, Sakaguchi has been tweeting about a planned live presentation of The Last Story on December 27th - that's tomorrow by the time you're reading this. He will be talking about and demoing a save file in the final version of the game, having already announced on Christmas Eve that the game itself is complete after nearly four years in development. The staff is currently working on balancing the game's difficulty for subsequent playthroughs. The presentation, he says, will be streamed on both The Last Story's official site and on UStream at 2:00 PM JST.
He mentioned that first playthroughs will take about 30 hours, and that you'll be able to access the online modes after your first save. Nintendo has even begun airing a short clip for the presentation itself:
Other in-store promotions for the big-budget RPG look like this: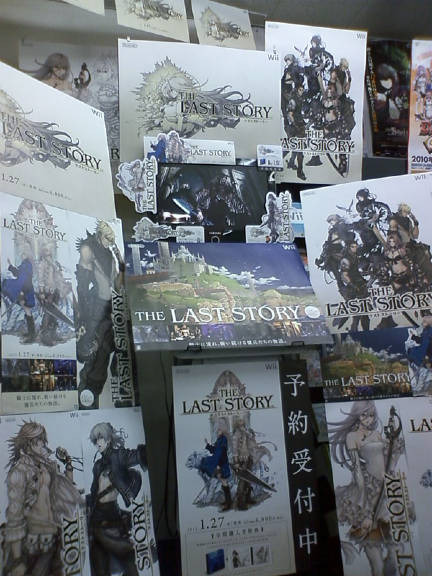 For more on the title, you can read our lengthy preview here if you haven't already. The Last Story is due in stores in Japan on January 27th.