Mass Effect 2 PS3 Gets A Demo... And Mass Effect 3's Engine
If you're new to the series, try it out this week.
12.20.10 - 12:35 AM
The PlayStation 3 version of Mass Effect 2 may have already been detailed and dated, though with a month to go before its release, there's still more to talk about it seems. And also to look at, in the case of the previously-mentioned interactive comic which brings PS3 players up to speed on the series in lieu of actually getting to play the first Mass Effect. The roughly 15-minute long comic, jointly developed with Darkhorse Comics, lets players make important choices regarding other alien races, relationships - not to mention your character, Commander Shepard's gender.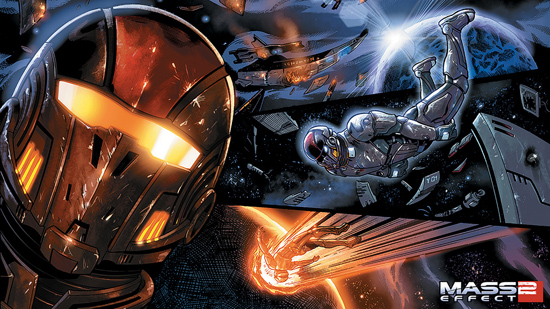 The official U.S. PlayStation Blog has a video clip of the PS3 port here, where you can see some of the comic and gameplay. If the game looks different than its PC or Xbox 360 incarnations, that's because this version uses the newer graphical engine of the series' next installment, Mass Effect 3.
If the comic isn't quite enough for you, there will also be a database in-game where you can look up races, areas and such to get better acquainted with the Mass Effect universe. The game will also have an install feature for the impatient types (like me) who don't like those load times, and BioWare has changed the control scheme just a bit to what PS3 users may be more accustomed to. Players will shoot/aim with R1/L1, and switch between weapons and abilities with R2/L2.
Does this all sound appealing to you? You can give the game a try this week if you're still not 100% sold on picking it up next month. That's right - a Mass Effect 2 demo will hit the PlayStation Network this Tuesday, December 21st for the curious. The full PS3 game, including all DLC on one blu-ray disc, will hit stores on January 18th for $59.99 US, and on January 21st in Europe.