Tales of Xillia Announced
Jump beats Namco's site to the punch.
12.15.10 - 2:44 AM
Some number of months ago, Namco Bandai announced three Tales games at once: Tales of Graces F, Tales of the World: Radiant Mythology 3, and an unnamed-at-the-time PlayStation 3 title. Now, a copyright by Namco for a Tales of Xillia has been popping up over the past couple of months, so the title is likely a surprise to exactly no one.
Last week, Namco Bandai put a 'Next Tales Of...' teaser site up with a countdown clock that's supposed to run out tomorrow at 5PM JST (yet doesn't seem to be working right on a lot of computers....), but it looks like Jump magazine beat them to the punch - by mere hours. An early scan shows off some artwork and reveals the initial details. Tales of Xillia is the first in the Tales series to feature two main protagonists - one male (Shuto Matis) and one female (Mira Maxwell). Shuto is an extremely hardworking medical school student while Mira has mastered the elements - wind, water, fire and earth. Each character was designed by a different Tales series character designer - Shuto was created by Kosuke Fujishima, and Mira is Mutsumi Inomata's work.
The magazine also shows a familiar face, as the theme song will be performed by JPop megastar Ayumi Hamasaki. Tales of Xillia will be released in Japan sometime in 2011, and check back for more information once the game gets *officially* revealed. Until then, check out the scan below.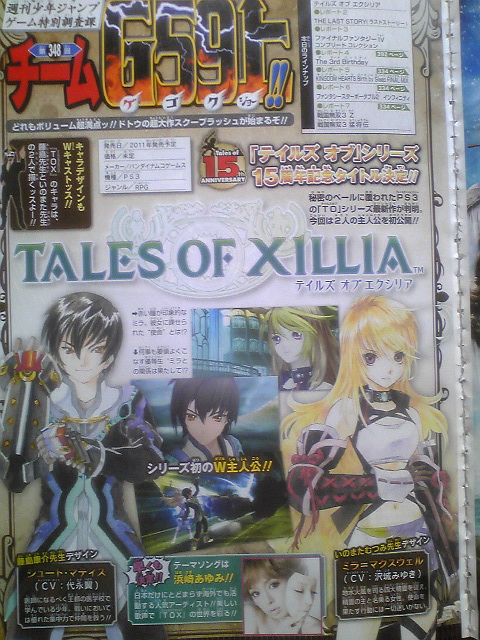 And the game's website officially opened just a few minutes ago. Check out an initial trailer here.