Aya's Two Latest Costumes In The 3rd Birthday
And the many different ways in which she can heal.
12.08.10 - 4:40 PM
Square Enix claims that The 3rd Birthday's Aya Brea will have a total of ten different costumes to choose from. We obviously haven't seen all of them yet, but these are the two latest ones as shown in this week's Dengeki Playstation magazine. Seems Joy to the World isn't the only thing Christmas-themed in the PSP game: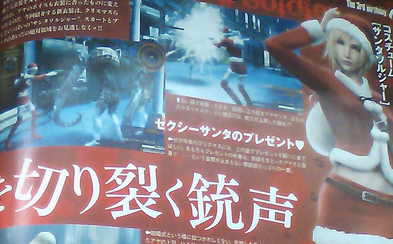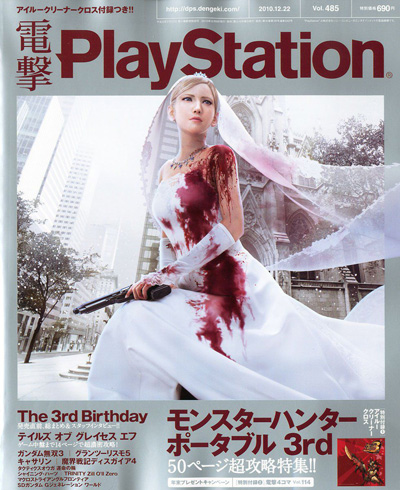 They really love in-game cosplay in Japan, don't they? The wedding dress was seen in an early trailer for the game and might actually be story-related, but it looks like Aya got into a few battles while still in it. Makes you wonder how the dress will incur damage. The 'Santa Soldier' costume just goes for that revealing angle like most of the others we've seen.
Regardless, she has a few ways in which she can heal. We talked before about the DNA system in which you can customize and change what skills Aya can equip. If she has some kind of healing chip then she'll have the appropriate skills, such as the 'cross healing' chip, which gives you a chance to recover when you execute a Crossfire attack. As well, after you earn BP from battle, you can use these towards healing or buying new weapons. When she Overdives into soldiers, she can also recover that way. No matter what weapons that soldier is carrying, Aya will always retain whatever weapon she brought into battle with her.
The staff behind The 3rd Birthday say they've made the game fairly challenging and you'll have to make lots of use of the Overdive ability. Easy mode has a lot of restarts points though if you're not quite up to the challenge.
Lastly, executive producer Yoshinori Kitase called The 3rd Birthday a reboot to the series, saying it's not actually a Parasite Eve threequel after all. It'll be interesting to see what direction the series goes in that case. The 3rd Birthday is out in two weeks in Japan, and later this winter in North America.