Lord of Arcana Gets A Blood Red Edition In Europe
What? Oh, I mean, a Slayer Edition.
12.08.10 - 4:14 AM
Square Enix's Lord of Arcana is all about demons and slaying. It's even got demon designs from the likes of Todd McFarlane and Yoshitaka Amano, so what's not to like? If you're over in Europe and plan on picking up this game, you may as well pre-order and/or pick it up quickly. First-print editions of the game will actually be Slayer Editions, complete with a mini soundtrack, 44-page artbook and a red PSP game case. Like so: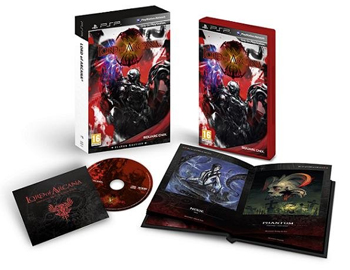 Need a little more convincing? Here's a recent trailer.
So far though, the Slayer Edition has only been announced for Europe. Lord of Arcana will be released there on February 4th, 2011 for £34.99, and in North America on January 25th for $39.99 US. Now if you'll excuse me, I need to go find out if Amazon's UK site will ship this to Canada...