Bandai's upcoming 'virtual MMORPG',

.hack Volume 1 - Infection Expansion

was released in Japan this past June, with a stateside release planned for October 16th. While October is still a few months away, we have a fair amount of new media today to tide you over. Come on, you can make it.

To start off, we have 18 English screens of the game, showing off battles, various menus and more. As we mentioned in our preview, computer-controlled characters mimic real people playing an online game to the extent that some even use emoticons in their text, which has of course been carried over to the English version. Scary, but realistic.

Also mentioned in our preview, each volume of .hack will be bundled with an accompanying OVA on DVD, with a running time of 30 minutes (45 for .hack Volume 1). In addition to our existing gallery, we've just added 3 new screen shots of the OVA.

If you're looking forward to .hack so much that you just need to stare at it all day long, take a look at these six wallpaper designs, courtesy of Bandai. All wallpapers are in 1024x768 resolution, and some have a moderately high file size, so those with slower connections beware.

So, there's Volume 1. But that's not all, as developer CyberConnect2 has released some information on the second volume as well. Due out September 19 for 5,800 yen, .hack Volume 2 - Malignant Mutation continues the story from the first volume, in both the game and bundled OVA. In addition to promising more voice acting than before, the game will also allow players to use their save file from Volume 1, which will carry over their stats, items and equipment from the first game. We also have an image of the game's Japanese packaging, which is far more lively and colorful than that of Volume 1.

Many games have limited edition versions or pre-order incentives in Japan, and .hack Volume 2 will be no exception. Fans who reserve the game will be able to get a bust of one of the game's main characters, Black Rose, as seen below. Note that this is a pre-production version, and the actual product will vary (and likely be colored).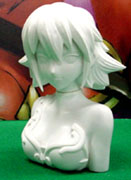 One last thing worth mentioning is the planned release of a DVD compilation of the OVAs. Tentatively titled ".hack//Another Story," the package will contain all of the OVAs from the games in one box. Of course, this set will not be released until after .hack Volume 4 releases in Japan, so don't look for it earlier than the first half of next year. At the moment, it is unknown what sort of extras or added features the set will have over the individual OVAs, if any. Other details are sketchy at best at this point, including the possibility of a reduced price point for owners of all four game volumes.
For more details on .hack Volume 1, I again refer you to our lengthy preview of the game.