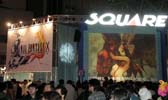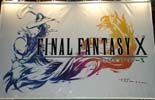 Every semester for the Tokyo Game Show, one publisher never fails to have a number of new RPGs to present. Of course, this is Square we're talking about, and this year again, no less than four new games were being shown at the Square booth. The most anticipated title was, hardly surprising, Final Fantasy X, of which playable demos were available for the visitors to enjoy.



Square also had three other games to present: Blue Wing Blitz, their newly-announced strategy RPG, the WonderSwan Color remake of Final Fantasy II, and Wild Card, another WonderSwan Color title by the producer and director of the SaGa series. All of the games were playable except Blue Wing Blitz.
Courtesy of Julien Wilk from La page des génériques, we've got some photos and scans of the official Square TGS booklet!