Final Fantasy IX Day!
Final Fantasy IX is being released in less than one hour! Sales will start at 7 AM on the 7th of July. A few hours ago, Famitsu.com made a report on how eagerly fans await the game's arrival. Surprisingly enough, lines in front of stores have been minimal. Those who remember past Final Fantasy releases can probably still picture the hundreds of people lining up in front of the stores. Many of them had spent the night in the street just to get a copy of the game on its release date. In order to prevent kids from ditching school, authorities were even forced to legally preclude companies like Square and Enix from releasing their big-name titles on school/working days. Consequently, the day picked for Final Fantasy IX's release, July 7th, is the holiday of Tanabata. This time, perhaps due to the high number of reservations, the throngs of customers lining up are curiously absent on the eve of the game's release.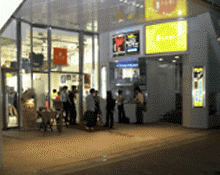 To celebrate the release, we have a ton of new FFIX media for you to look at!
- First, a collection of 28 new screen shots, showing mostly VIVI making its way through the city of Alexandria.
- 18 new pieces of artwork. This includes 8 new character portraits by Yoshitaka Amano, 2 designs of the airship-theater Primavista, and 8 sprite renders!
- 5 new high-quality wallpaper designs
- A map of Alexandria
- And finally, a new high-res trailer movie of Final Fantasy IX from Gamespot Japan!
You can briefly see two new characters in the movie. Will they be your allies, or will they be villains? Well, we'll find out in a few hours...


Title: Final Fantasy IX Promotion Movie
System: Playstation
Description: Final Fantasy IX Promotion Movie
Running Time: 30 Seconds
File Size: 5.8 Megabytes
Format: AVI

Date Updated:
July 6th, 2000
Time Updated:
2:34 PM


Feena