DQVII, FFIX and Grandia II Soundtracks Info!
Symphonic Tracks Dragon Quest VII: Warriors of Eden + Original Soundtrack will be released on September 9th and will be a 2-CD album, one CD containing 19 symphonic arranged tracks and the other one holding the 29 original game tracks. The symphonic tracks were performed by none other than the philharmonic orchestra of London under the direction of composer Kouichi Sugiyama. The DQVII OST will retail at a price of 3,800 yen and will be published by Sony Music, ref. SVWC 7052-7053. The first press will come with a set of character stickers!




Final Fantasy IX is being released in less than 24 hours, but those who want the soundtrack will have to wait until August 30th to get their hands on it. The soundtrack will come in a special engraved cardboard box, with a set of cards illustrated by Yoshitaka Amano, and the music score of the game's theme, Melodies of Life. According to Nobuo Uematsu, the soundtrack will contain 110 tracks; the retail price will be 3,689 yen for 4 CDs. Two bonus tracks will be included: an a capella version of Melodies of Life, and the BGM of the Coca Cola TV commercial. For those who may be interested, the OST is published by Digicube, ref SSCX 10043-46.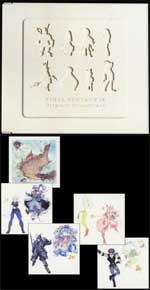 As for Grandia II, more information has surfaced on the CD that will come with the 7,800 yen limited edition. The limited edition will come with a CD-book entitled "Melodia", which contains a Grandia II Compendium (a booklet with various sketches and pictures of the world and characters of Grandia II) and a Maxi Single (with the main themes from the game, remixed by Noriyuki Iwadare and others). The book will come with lyrics sheets. Here's the track list of the CD:
1. Cancao do Povo - Little Shelter MIX
Lyrics by/Performed by: Kaori Kawasumi
Composer: Noriyuki Iwadare
Remix: Yoshihara Ohta

2. A Deus - A Challenge for the Gods
Lyrics/Performed by : Kaori Kawasumi
Composed by : Noriyuki Iwadare
Remix: Alulu-Can

3. Digital Museum RadioDrama Opening
Composed/Arranged by Noriyuki Iwadare

4. Gadoin's Art of Loving
Composed/Arranged by Noriyuki Iwadare

5. Gadoin PAD
Composed/Arranged by Noriyuki Iwadare

6. Baal's Diary
Composed/Arranged by Noriyuki Iwadare

7. Sample!!
Composed/Arranged by Noriyuki Iwadare
With the names of Baal and Gadoin mentioned, one may wonder whether these musics will be remixes of Grandia or Grandia II. If this kind of item doesn't interest you though, remember you can purchase the regular edition for 6,800 yen.

Date Updated:
July 6th, 2000
Time Updated:
8:56 AM


Feena
Related Links:
• Dragon Quest VII OST Pictures
• Final Fantasy IX OST Pictures