More E3 Goodies!
First off, just to confirm it, Grandia IS being showcased, as many have been inquiring today. Star Ocean 2 was also on display.
Next Generation was lucky enough to get an interview with Square EA. They found out that work on Final Fantasy IX has already been started. Nothing more was told.
Climax Landers was on display at Sega's booth, and Evolution is also confirmed for a US release. Evolution has no release date that I'm aware of yet, but Climax Landers has been set for this holiday season.
Probably the worst news so far, is that Tecmo so far has not put out anything on Ninja Gaiden IV at their booth. Don't despair though, that doesn't mean it still won't show up. We'll keep our eyes peeled for it! Either way, with the recent talk, there will almost certainly be a new Ninja Gaiden game soon, whether it be announced at E3 or not!
We finally found more on Detonator Gauntlet, the game WD had been displaying earlier. Thanks again to Game News Network we learned that the game will be a mech-style strategy RPG. It will be polygon based. You can see the artwork spread by going to GNN, and it includes some screen shots at the bottom, which, while hard to see, show off the polygon based system the game uses. This game is scheduled to third quarter 99, and as we reported earlier, will include a Lunar 2: Eternal Blue Remix demo. Silhoutte Mirage will also include a viewable movie of Lunar 2: Eternal Blue.
From Nintendojo comes news of Super Mario RPG 2. Or rather, the new name being Super Mario Adventure. There is a screen shot below.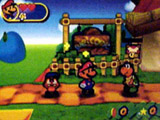 Date Updated:
May 14th, 1999
Time Updated:
1:43 AM


GhaleonOne
Related Links:
• GNN
• Next Generation
• Nintendojo